Le Berceau Red
CHÂTEAU LA BLANCHERIE
Premium Cuvee
Exceptional wine from our best parcels. "Successful marriage between fruit and breeding. […] A Graves of character." Gilbert & Gaillard
Keep :

5 to 10 years

Grape variety :

Merlot (50 %) - Cabernet franc (30%) - Cabernet-sauvignon (20 %)

Soil and subsoil :

Gravel, clay, limestone

Food and Wine pairing :

Red meat, game birds, cheese...
Available vintages
Tasting Notes
Exceptional wine from the best parcels of the Château. Deep robe, intense and brilliant colour. Very fine and complex nose with aromas of cooked red fruits. Rich wine, with a nice length and tannins melted but present. AOC : Graves Average age of the vines : 25 years Soil and subsoil : Gravel, clay, limestone Grape varieties : Merlot (50%) – Cabernet franc (30%) – Cabernet-sauvignon (20%) Cultivation : no chemical weedkiller, mechanical tillage and mowing. Reasoned vineyard management Harvest: mechanical Vinification: in thermo-regulated stainless steel vats, vatting for 28 days. Malolactic fermentation (12 months) Ageing: in French oak barrels on fine lees Production: 3 000 bottles Serve at 16 / 18 °C.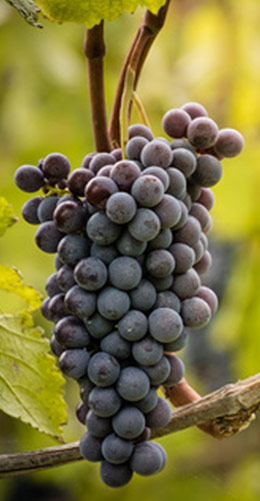 The vinification
of red wine
As with white wine, we produce fruity, supple wines that can be tasted and enjoyed without delay. Also, we privileged the Merlot grape variety for its aromatic qualities. As the harvest approaches, each plot is checked by tasting and laboratory analysis to monitor the ripening process. The synthesis of its elements (and the weather!) allow us to fix the best date of harvest plot by plot. The harvesting machine allows a large quantity of grapes to be picked in a short time. We can wait for the optimum maturity more serenely. The grapes are destemmed directly on the harvesting machine, then sorted manually before being crushed and placed in vats. The red colour is contained in the skin of the grapes. Also, during the whole vinification (alcoholic fermentation and maceration) the grape must (becoming wine as the alcoholic fermentation progresses) cohabits with the skins and seeds from the same grains. After a maceration of 3 to 4 weeks, we proceed to the vatting: the wine is drained (which becomes the free-run wine) and pressed from the marc (skins and pips) which becomes the press wine. The red wines then undergo a second fermentation: malolactic fermentation which transforms malic acid and lactic acid, which reduces the acidity of the wines and softens them. The wines are then aged in oak barrels for 12 months, the objective being not to give a pronounced woody taste, but depth and suppleness.